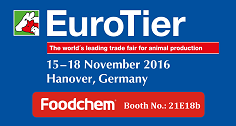 EuroTier 2016 come to a successful conclusion. Congratulations!!!!

EuroTier is a very proffesional exhibition. We total have a meeting and good convensation with 89 clients, which include the new clients and our old clients, also the potencial clients from different countries. The main clients all for Feed ingredients such as Amino acid and Vitamins.

Through this exhibition, we learn more about customers and this market, and at same time, it helps customer to know more for Foodchem and give Foodchem more trust.

If you not visit us this time, don't worry, please contact us now!
We aim at promoting the industry transformation and development with innovation concepts.